THE ORIGINAL AND BEST SELLING WELD-THROUGH PRIMER
Improve weld quality and lower fabrication costs by protecting freshly machined or cleaned weld joints from preparation to assembly
SPECIFIED BY LEADING ENGINEERS FOR OVER 50 YEARS
An ideal primer, compatible with most top coatings.
An economical alternative to other types of pre-welding preparations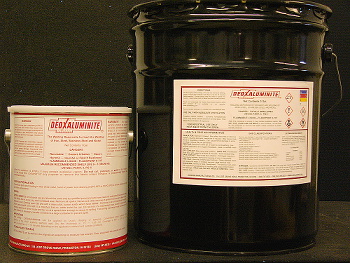 ALUMINUM BASED - CONTAINS NO HARMFUL ZINC
IMPROVES WELD QUALITY
NEED NOT BE REMOVED BEFORE OR AFTER WELDING
REDUCES RUST & CORROSION
INSURES FINE-GRAINED WELDS
REDUCES POROSITY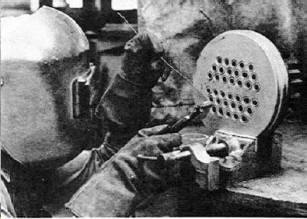 This shows a tube sheet & tubing assembly for a high pressure feedwater heater & exchanger. The parts of the assembly to be welded are coated with DEOXALUMINITE. A typical unit may contain as many as thirty-size 5/8" tubes in a 9" diameter alloy steel sheet which is TIG welded and then tested up to 4600 psi and 800°F
Documentation
| Part Number | Size |
| --- | --- |
| 155-01 | 1 Gallon |
| 155-05 | 5 gallon |
International Distributor Listing
Following is a list of our international stocking distributors/agents.
Please feel free to contact them for a quote on your requirements.
United States - Johnson Manufacturing Company
114 Lost Grove Road
Princeton, Iowa 52768-0096
Ph 716.881.3030, FAX 716.881.4353, email: pat.oconnor@johnsonmfg.com
CANADA - SCN Industrial,
20701 Chemin Ste-Marie,
St. Anne de Bellevue, QC H9X 5X5
Ph 905.831.8010, FAX 905.831.4148, email: scnp@scnindustrial.com
CHINA - Zhenjiang Runzhou Deyili Paint Mfr.,
Ninzhen Rd.,
Zhujiawhan, Zhenjiang, Jiangsu 212021
– daniel_ty_lee@yahoo.com – Phone: 511.85725536
Cell phone number: 137.05282553 Name: Shan Ben Wu
总经销
镇江市润州德意丽涂料厂
地 址 : 江苏省镇江市宁镇路朱家湾,邮编 212021
电 话 511.85725536 手 机 137 .05282553
姓 名 : 巫善本

Sales Representative: Mr. Daniel T. Lee Cell phone number: 137.75539498
Europe, Middle East, Africa - A. Narcucci SpA,
Via Dante Alighieri 25,
Stezzano, BG
Ph 39 035592548 FAX 39 0354559071, email: estero@anarducci.com
JAPAN - Aichi-Sangyo Co.,
5-12 Kitashinagawa 5 Chome,
Shinagawa-ku, Tokyo
Ph 813 34470201, FAX 813 34492143, email: suhara@aichi-sangyo.co.jp
KOREA - Geotek Corp.,
601-206, Mok-5 dong 911,
Yangcheon-ku, Seoul
Sales representative: Mr. Yang R. Lee, Ph: 82-2 2625.9556 email: yrlee53@kornet.net
SINGAPORE - Leeden Ltd,
1 Shipyard Rd.,
Jurong Industrial Estates 618128,
Ph 65 2688333, FAX 65 2687515, email: anthonygoh@leedenlimited.com